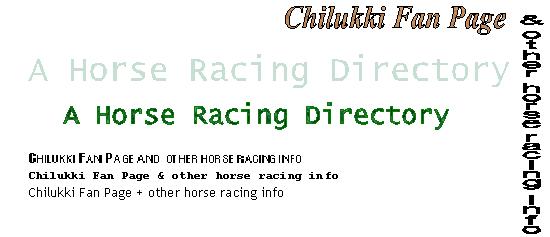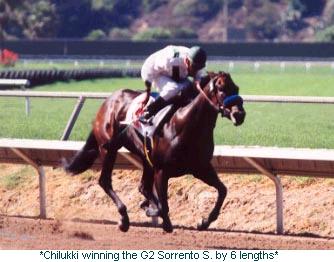 Chilukki, named for her sire, Cherokee Run (winner of the G1 Breeder's Cup Sprint), after a dialect of the Cherokee Indian tribe, is one of the fastest fillies around. In early 1999, her works prior to and at the Fasig-Tipton 2 Year-Old in Training Sale at Calder were enough to impress the formidable team of Bob Baffert (trainer) and Stonerside Stables (owners) to pay $875,000 for her after partaking in a bidding war. She dazzled everyone, from handicapping's toughest critics to the avid fan, with her first start on April 28, 1999. She overwhelmed the other fillies in the maiden special weight, beating them by a whopping 9 1/4 lengths and in the process demolishing the Churchill Downs track record for 4 1/4 furlongs with a time of 51 seconds flat.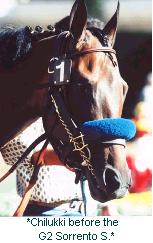 Her next start came May 31 in the G3 Kentucky Derby Breeder's Cup against "the boys." She handled the field quite easily, charging to the lead from the gate and keeping it that way, winning by 4 3/4 lengths in a time of 1.04.01 for 5 1/2 furlongs. Next, came the G3 Debutante Stakes for 2 yr old fillies going 5 1/2 furlongs. Again she wowed with a 5 1/4 length victory in a blistering 1:03.66, a new stakes record and just a mere 5 hundredth of a second of the track record. Reeling in yet another win with ease, Chilukki destroyed the noteworthy field by 6 lengths in the 6 1/2 f. G2 Sorrento Stakes. Dashing through brisk fractions of 21.97, 44.76, 1:09.86 she pulled away from the other horses and finished up with a time of 1:16.4.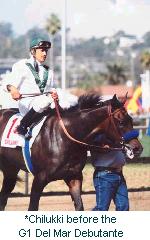 Another electrifying success came in the G1 Del Mar Debutante. Chilukki held off a late run by Spain, after setting blazing fractions, winning by a length and running 1:23.54 for 7 furlongs. She added another triumph to her tally when she stretched out and won the G1 Oak Leaf mile in a stakes record of 1:36.12. In the G1 1 1/16-mile Breeder's Cup Juvenile Fillies, she suffered her first defeat by 1 1/4 lengths, finishing second to Cash Run. With a track bias towards front running speed, Cash Run ran a wire to wire victory in a time of 1:43.31. After the spectacular season of 1999, Chilukki was named Eclipse 2 yr old Filly Champion, writing her name in the history books forever.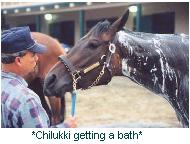 In 2000, after Chilukki was given a reprieve from her long campaign, she emerged onto the racing scene on Feb. 19th in the G3 Davona Dale S. Going 1 1/16 miles she was beaten one length by Shawnee Country. Her next start in the 1 1/16-mile G3 Fairgrounds Oaks did not yield pleasant results. She finished a weakening 8th and after the race her lungs had fluid and blood in them. Nearly 4 months later after time out in the pasture, Chilukki was entered in a comeback race on July 4th.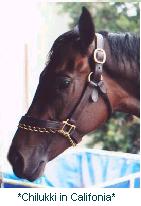 Making fireworks of her own, she dueled briefly but easily pulled away under a hand ride to win by 5 lengths in the 6-furlong Regret Stakes sprint at Monmouth Park. In the G1 Test S. Chilukki had some horrible racing luck which prooved too much for her to overcome, finishing 6th. It began at the gate when she stumbled out, nearly unseating jockey Shane Sellers. Furious at being left behind, she took off and zoomed up on the leaders in a matter of strides. Someone unofficially clocked that furlong in a blistering 10 2/5 seconds. Baffert also said that during the race Chilukki couldn't get a good running surface. And then to top it all off, it turns out that after the race they discovered Chilukki had grabbed her quarter during the start, not too severe of an injury, but enough to effect her race. Leading at every poll, Chilukki rebounded successfully in a tough allowance race. Just :69 seconds off the track record, she zipped the 6 1/2 f. in 1:15.09. Moving to Del Mar, Chilukki overpowered the field, winning the C.E.R.F. stakes the last day of the meet. Her final time was a quick 1:09.2.

Now, you too can have a part in the sensational Chilukki. My name is Kate (excellentmeeting@hotmail.com), and I co-run a Chilukki fan club with Merv (SANDPIT22@aol.com). If you join the FC you can participate in polls, and get tons of info concerning this filly. Also, you will receive a regular newsletter and learn the latest on Chilukki. If you're interested in joining email one of us. It's all free, so what do you have to lose. Thanks for your support! Kate